With the banner image above posted to offer a bit of levity, and emphasizing that we do not agree with the scenario implied by the museum diorama regarding the builders of Göbekli Tepe (and our ancestors more generally), we present the following:
ORACUL'S Mission
The scientific debate surrounding the origins of human civilization is far from settled. Independent research by scholars and professionals in the hard sciences has begun to challenge the accepted narrative of civilization's beginnings. Today, there is a large body of evidence from a myriad of fields which argues convincingly for a revision of that narrative – pushing back the timeline for advanced culture by thousands of years.
Opposed by many orthodox scholars (whose interests are served by maintaining the status quo), serious scientists and professionals who attempt to bring attention to this contrary evidence are often ignored and ridiculed. Handicapped by a lack of funding, publicity, and professional networking, breakthrough research related to ancient cultures continues to languish in relative obscurity.
ORACUL works to bring this existing research to the attention of both the academic community and the public, as well as conducting new investigations into ancient cultures. This pioneering research involves not only professionals in the hard sciences, but also serious, out-of-the-box thinking in other disciplines. ORACUL will accomplish this goal by focusing on three primary areas of activity: Research Advocacy, Publishing, and Educational Outreach.
---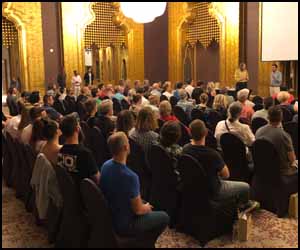 Educational Outreach
In 2019 ORACUL conducted its first two education tours. Both were to Egypt and both were filled to capacity. We are so grateful to all who joined us, contributing to the success of the tours, the strength of the organization, and helping to build our community in the nicest way. Thank you to all who participated! It is our hope to conduct future tours to many wonderful locations. It is also our plan, as we grow, to host educational conferences. However, at the moment ORACUL's tiny team is hard at work on an educational documentary. Please see the homepage of this website for a video trailer of our work thus far. We have some fun images from our travels posted to our Tours page. And please do sign up to our mailing list (don't worry; we keep our mailings to a minimum) via our Contact Us page.
---
Publishing
Another goal of ours, as we grow, is to have a full scale publishing arm – ORACUL's own imprint. Until we achieve that, we offer interesting articles (which we periodically change) on the Presentations page of this website. You might also enjoy some of the videos posted to our YouTube channel.
---
Research Advocacy
The ORACUL Team conducts research all the time, but it is the organization's goal to one day conduct field research. That, however, takes considerable financial resources, something we have little of at the moment. When field research does occur, one of our primary areas of focus will be to further investigate the chamber beneath the Sphinx's paw, detected seismically in the early 1990s by ORACUL's Director of Research, Dr. Robert Schoch (working with colleagues John Anthony West and Dr. Thomas Dobecki).
---
Please visit our Board and Advisors page to learn more about those who are working so hard to grow this organization.
---
A little "welcome video" that perhaps you might enjoy (with music by Pallas Catenella).